Click here to get this article in PDF
Emerald cut engagement rings are both elegant and sophisticated with perfect symmetry. Emerald cuts are often paired with either baguette or trapezoid side stones for a beautiful three-stone engagement ring or left on their own as the cut itself is so striking.
---
A Brief History
This spt dates back to the 1500s when stonecutters created this cut for actual emerald gemstones. This specific cut grew in popularity due to the lack of pressure during the cutting process. Nonetheless, the term "emerald cut" was not used to describe this design until the 1920s.
During the art deco period, emerald cut engagement rings soared in popularity because of their clean lines and symmetry.
---
What to Look For
If this is the cut you've decided on for your engagement ring, regardless of your setting choice, there are a few key factors to consider when shopping for your center stone.
Cut
Emerald cut diamonds are a part of the step-cut family meaning their faceting is parallel. They are characterized by their rectangular shape and cut corners, similar to that of a radiant. They have an open table that lets you look clearly into the diamond. For these reasons, the diamonds lack the fire and brilliance of other brilliant shapes. However, the elongated shape allows for larger flashes of sparkle when light rays reflect through them.
Color
Because of the clear[er] appearance of emeralds, there is more flexibility when it comes to color; we suggest staying within the D-J range for the best quality.
Clarity
Clarity in emeralds is incredibly important; VS2 clarity and up is best for emeralds because there are fewer facets thus imperfections would be easier to detect to the naked eye. An eye-clean SI1 may exist but would be extremely rare.
---
Emerald Cut Ratios
Length-to-width ratio is very important for emeralds because they vary so drastically and will give you dramatically different appearances. For emeralds, ratios will typically vary from 1.3 for a more compact look all the way to 1.60 and above for a more elongated rectangular look.
---
Emerald Cuts vs. Other Step-Cuts
While emeralds may be the most popular of the step-cuts, there are two others to keep in mind: Asscher and Hybrid.
Asscher and emeralds are sister shapes in that Asscher cuts are simply just square versions of the latter.
Hybrid step-cuts are relatively new and rare. What is a hybrid step-cut? Essentially, it's a cross between a cushion and emerald cut, or an emerald cut with extra facets to give them a touch more sparkle!
---
Emerald Cut vs. Other Rectangular Shapes
More popular are radiant and cushion cuts. In 2021, radiant cuts were rated No. 2 most popular, cushion cuts No. 4, and emeralds ranked No. 6. Similar to emeralds, both radiant and cushion cuts are elongated, rectangular shapes.
Emerald vs. Radiant
Both shapes have a similar outline with flat edges, cut corners, and similar length/width ratios. The major difference that sets these two diamond shapes apart is the faceting pattern and in effect how they sparkle. With their outlines and shape nearly identical, their faceting is what truly sets them apart. Emeralds are better at masking color while radiants mask inclusions and offer more brilliance.
Emerald vs. Cushion
Cushion cut diamonds and radiant cut diamonds have more in common than cushion cuts and emerald cuts. However, emeralds and cushions are among the most popular for those who want elongated rectangular shapes. Where emeralds have cut corners, cushion cuts featured rounded corners, like pillows. Other than that, their most obvious difference is their faceting; cushion cuts are brilliant cuts whereas emeralds are not.
---
Popular Lauren B Emerald Cut Rings
Like any other shape, there are settings that we've found are most popular among our clients. If you aren't sure how you want to set your emerald cut diamond, check out some of our most popular designs!
Engagement Rings
4.20ct Emerald Cut Diamond Super Slim Engagement Ring
1.7ct Emerald Cut Lab Diamond Invisible Gallery™ Ring
3.02ct Emerald Cut Diamond Three-Stone Engagement Ring
Wedding Bands
Emerald Cut Diamond U-Shape Eternity Band
4.30ct Emerald Cut Diamond White Gold Eternity Band
Half Way Emerald-Cut Diamond Wedding Band
---
Famous Emerald Cut Engagement Rings
Since their rise in popularity during the 1920s, there have been a handful of famous emerald cut engagement rings.
First on the list, Grace Kelly; her 10 carat emerald cut three-stone ring designed by Cartier from her husband, Prince Rainier of Monaco, is considered one of the most notable engagement rings of all time. Perfectly matched with her beauty and class, this engagement ring style became synonymous with elegance and sophistication.
After seeing Grace Kelly's 10.48 carat Cartier ring, Mike Todd proposed to Elizabeth Taylor with an even bigger emerald cut ring coming in at 29.5 carats!
In the mid-1970s, Frank Sinatra proposed to his wife, Barbara, with a comparable stone weighing 20.6 carats. Flanked by two trillion cut side stones, Barbara's ring was a staple of her wardrobe until her death in 2017. Her ring eventually sold at auction in 2018 for $1.7 million.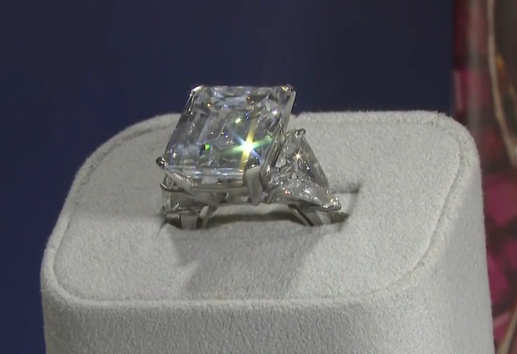 Fast forward to the present day, the most famous emerald cut engagement ring of this generation is that of Beyonce Knowles. Given to her by Jay-Z, Beyonce's ring is a custom piece designed by famed jeweler, Lorraine Schwartz. While the exact carat weight is unknown, experts have surmised that her split-shank engagement ring weighs anywhere from 18 to 24 carats.
Finally, the bachelor of all bachelors: George Clooney. He famously proposed to his current wife, Amal, in 2014. The exact style of Grace Kelly's ring, Amal now dons a 7 carat emerald cut three stone with baguette side stones.
---
Is this the Cut for You?
Whether you've decided which shape you want or not, our design consultants are ready, willing, and able to help guide you through the ring design process. Whether that's starting with a ring setting or just picking the right metal color, we've got you covered!
Browse through our in-stock engagement rings for more inspiration or book an appointment below to get started right away!