Click here to get this article in PDF
We're pleased today to grant you access to the Fall 2022 issue of Money Metals Insider – a FREE benefit for you, our valued reader.
This special newsletter is packed with actionable information about the markets, plus details on some special offerings from Money Metals Exchange.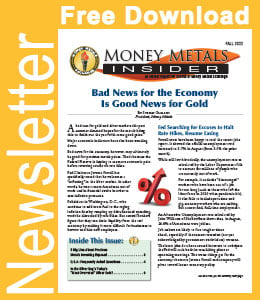 Leading off the issue, we explain why bad news for the economy is good news for gold and silver — and just how undervalued silver is right now versus gold on a historical basis.
Plus, we give you the inside skinny on the Silver Eagle situation and why this once-popular product may now be the most overrated silver coin in the world. Also, we discuss the latest probing questions on investors' minds and reveal the top 5 biggest lies told about precious metals investing.
Here's more about what's inside your free Money Metals Insider newsletter:
Bad News for the Economy Is Good News for Gold
Q & A: Frequently Asked Questions
Loan Program: Get Cash Without Selling Your Precious Metals
Access Even Lower Premiums by Joining Our Popular Monthly Gold/Silver Savings Plan!
5 Big Lies About Precious Metals Investing Exposed
Is the Silver Eagle Today's "Most Overrated" Silver Coin?
So download the PDF of this fantastic free newsletter right now – and pass it around to your friends! It's another free benefit for those who have signed up for the Money Metals email list.